---
HAPPY HOLIDAYS!
WE SHIP MEAT ORDERS ON MONDAY and TUESDAY ONLY
Online orders & assistance:
(800) 252-6887
Cresson Store Hours: 
Wed - Sat: 10:00am - 5:00pm
Sun, Mon, & Tues: CLOSED
Store Address & Phone
9516 E Hwy 377, Cresson Texas 76035
(817) 396-4455
Texas is home to some of the finest culinary delights in the world and at Anthony Orchards' Ranch Oak Smokehouse, we strive to offer you the best from the Lone Star State. So whether you're sending to a friend or yourself, our product is unquestionably the best - and the taste is undeniably authentic.
---
A FEW OF OUR BEST SELLERS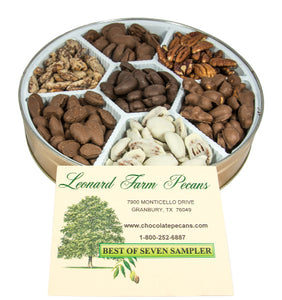 LEONARD FARM PECANS
We have a full selection of pecans ranging from in-shell to our famous Best of Seven Sampler.