---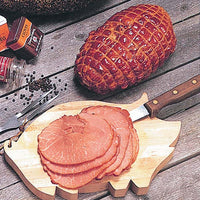 Enjoy the convenience of a perfectly smoked, tender and delicious Ranch Oak smoked boneless and pre-sliced ham.  Our hams are trimmed to be nearly fat-free, then smoked to retain just the right amount of moisture.  Just pure good eating and superior quality only found in a product that has proudly graced our customers' tables for over 70 years.
Order this ham with or without pepper.
Heating & Serving
Slice and fry for breakfast, serve it cold for sandwiches, appetizers or snacks, dice it for salads or casseroles, or heat it up by the slice for dinner.  To heat whole ham, remove from packaging and place in a baking pan with lid or foil to cover.  Pour any juices from the bag in with the ham and add 1/4 cup to 1/2 cup of water to create moist heat.  Cover and place in a 300 degree oven for one hour and fifteen minutes.  If you wish, garnish the top with pineapple or other fruits, jelly glazes or brown sugar mixtures.  Slice at serving time and enjoy!